PreadyTake Mate1
A ready-to-use system for in vitro drug transporter evaluation.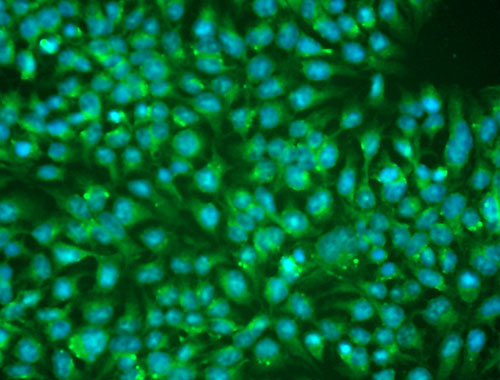 Adaricell MATE-1 Kit For In Vitro Interaction of Drugs With Efflux Of Diverse Substrates, Particularly Of Organic Cations 
HEK293-MATE1 (SLC47A1 gene) is expressed mainly in the apical membrane kidney and liver; and it plays an important role in drug disposition and exception mediating the efflux of diverse substrates, particularly of organic cations.
PreadyTake MATE-1 is ready-to-use and consists of a tissue culture 96-plate seeded with transfected cells expressing MATE1 transporter as well as parental control cells.
PreadyTake MAKE-1 Applications
MATE1 substrate assessment for direct transport studies.

MATE1 inhibitor assessment for drug-drug interaction studies.

Models the net active transport event of barriers such as liver and kidney

.
PreadyTake FDA Requirements
The FDA requires the PreadyTake MATE-1 studies to be included in the final preclinical analysis.

PreadyTake MATE- is a product manufactured in compliance with ISO 9001:2015
Cell Permeability Testing Market
PreadyTake MAKE-1 Benefits
PreadyTake MATE-1  assays are cost effective and don't not require the management of site/in house cell production

Testing kits are available on demand according to testing schedule

Shipped on day five of cell differentiation

Proprietary shipping medium allows for kits to be shipped and stored at room temperature

After incubation, kits are ready to assay with your compounds on days twelve through fifteen

The MATE-1 kit has demonstrated high reproducibility

Easily adaptable to automation

Extensive testing experience demonstrates that results meet or surpass expectations.

Discounted evaluations are available today
Download PreadyTake MATE1 Technical Sheet
| PreadyTake MATE1 Kit FORMATs | Product Numbers |
| --- | --- |
| PreadyTake-MATE1 (96-Multiwell) | KRECE-MAT50 |
| PreadyTake-MATE1/CTRL 1:1 (96-Multiwell) | KRECE-MAT51 |
| PreadyTake-MATE1/CTRL Custom setup (96-Multiwell) | KRECE-MAT60 |
| PreadyTake-CTRL (96-Multiwell) | KRECE-HEK50 |
Get PreadyTake MATE1 96 Manual